CALCE partners with FDA to improve wearable device reliability, safety
---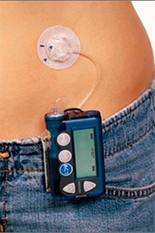 Wearable electronics have become ubiquitous—smart watches and fitness trackers are a few of the more popular devices. But, some people require body-attached medical devices. These include wearable defibrillators, blood-pressure monitors, heart-assist devices and infusion pumps. They're a less common, but, to the patients who require them, they play a vital role.
These devices help keep patients alive, healthy and report metrics back to healthcare professionals, so we should expect them to be safe to wear and reliable.
That's not always the case.
"Failures can cause malfunction," said Mehdi Kohani, a graduate research assistant with the Center for Advanced Life Cycle Engineering (CALCE), "which may result in patient injury or death." As a PhD student in Mechanical Engineering, his research focus is on medical device reliability.
Kohani is currently working at CALCE with the Food and Drug Administration (FDA) to help develop new standards for wearable electronics. His research will help eliminate the threat of Electrostatic Discharge (ESD) in malfunctioning devices by qualifying new tests for device manufacturers to ensure their products are safe, he said.
ESD is the abrupt transfer of electricity between electrically charged objects—typically caused by contact. That's similar to building up a static charge while walking across the carpeted floor of a room and then feeling a shock when you reach for the door knob.
This may not seem like such a threat, but at least two people have died due to ESD events, which lead to the malfunction of their ventricular-assist devices.
"The devices that are worn need to be robust enough to be safe, and they need to be able to maintain their normal operation without being disturbed," he said. At this time, the FDA doesn't have specific defibrillation-proof safety standards for wearable electronics.
Kohani's research continues through November, Kohani said, "our work will be to provide [manufacturers with] guidance, guidelines, new standards and new models for these devices"
Source: A. James Clark School of Engineering, News Story