Engineering for Change (E4C) Fellowship
---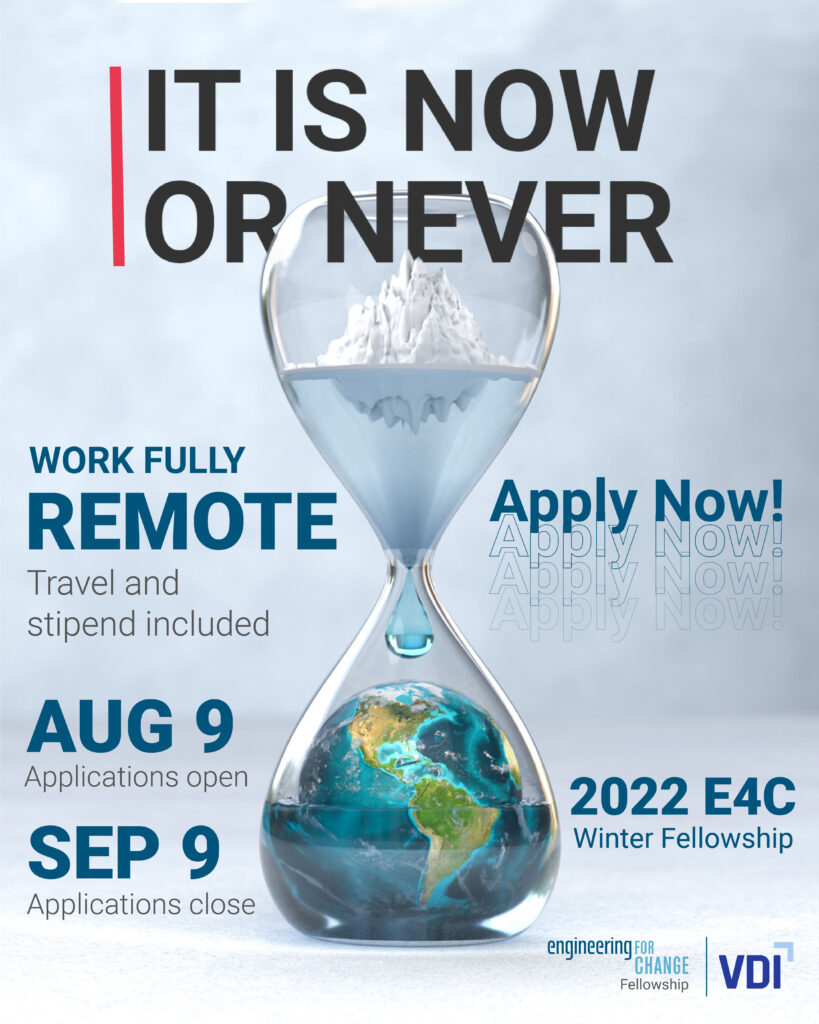 The Engineering for Change (E4C) Fellowship is a distinctive workforce development program at the intersection of engineering and social impact serving to activate and empower early-career technical professionals worldwide to solve local and global challenges. Providing a unique platform to develop professional skills, and connect with international mentors and peers from all continents, the E4C Fellowship offers leadership development opportunities that prepare the next generation of technical professionals to reach their fullest potential and deliver solutions that achieve the United Nations Sustainable Development Goals. The E4C 2022 Winter Fellowship, commencing in November, will include the Decarbonization through Digitalization research project in collaboration with Verband Deutsche Ingenieure (VDI) for American and German applicants, and various projects eligible to E4C Fellowship Alumni. 
The Decarbonization through Digitalization project aims to explore motivating factors around climate action towards meeting the 1.5 degree warming target identified in the Paris Agreement within the contexts of Germany and the United States. In particular, this investigation will focus on how the habitat and transport sectors are utilizing digital technologies to mitigate and/or eliminate carbon emissions. Four fellows, two from Germany and two from the United States, will explore how digitalization is enabling industry climate strategies and the circular economy for the built environment, sustainable mobility, and smart cities through desk research and expert interviews. The final report will include a summary of the findings, insights on key trends, and recommendations for skills needed to advance decarbonization efforts in these sectors. 
The program starts in November and finishes in April 2023. It's a part-time opportunity and virtual (although this specific project does require travel within the United States for 10 days) which provides a unique opportunity for graduate students to continue their training in this field of engineering and social impact.
Apply now! Here you will find all the details of the program including timeline, requirements, and application instructions